New plans for Milton Keynes' Midsummer Place shopping centre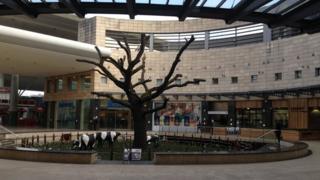 An oak tree that had been protected as part of a shopping centre development is to be replaced with restaurants and a cinema.
A multi-million pound "remodelling" plan has been put forward for Midsummer Place in Milton Keynes, owned by Intu.
Oak Court, as the area is known, will be covered once the tree is removed to make way for the redevelopment.
A spokesman for Intu said the tree had to go as it would become "structurally unstable".
The shopping centre opened around the tree in 2000 with the area above it left open to allow the light in.
The spokesman said the new plans, which include a "dining quarter" and an "alternative chic cinema", had been presented and now it wanted the public to share its views on the proposals.
"Irrespective of the proposal, the oak tree will need to be removed as we have been advised by an arborist that it is dead and, over time, will become structurally unstable," the spokesman added.
Martin Breeden, from Intu, said the area would be "significantly improved" by the redevelopment.