St Albans council's rail depot challenge dismissed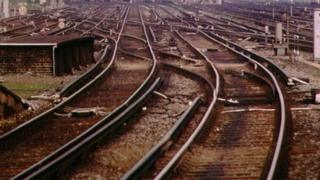 A council has lost its latest appeal against a government decision to allow a rail freight terminal on green belt land.
Approval was granted to the development at Radlett, Hertfordshire, in July 2014 after a seven-year protest campaign.
St Albans Council argued the communities secretary illegally allowed the developers to appeal when planning permission had been refused.
The High Court disagreed and dismissed the council's appeal.
Confirming the news to the BBC, Park Street councillor Stephen Bowes-Phipps also tweeted it was a "final stab in the back for St Albans".
The proposal for the Strategic Rail Freight Interchange (SRFI) on the former Radlett Airfield in Park Street was first lodged by developers Helioslough Ltd in 2006.
It said its plans followed government policies to increase the transport goods by rail and the terminal was needed to serve the South East.
'Benefits outweighed harm'
St Albans District Council twice refused planning permission over fears of damage to the green belt and ministers also blocked the proposals in 2010 after the developers appealed.
Following a second developer appeal, Communities Secretary Eric Pickles backed the development in December 2012.
The council applied for a judicial review in February 2013 but the High Court turned the request down.
Mr Pickles finally approved the scheme in July 2014 saying the benefits outweighed harm to the landscape and it was this decision the council challenged.
Its lawyers told the High Court that because an incinerator on green belt land at Hatfield had been turned down by the government, then the decision should be the same for the terminal.
The cost of the council's seven-year battle is estimated to be about £1.5m.