Hertfordshire Police misconduct hearing clears two officers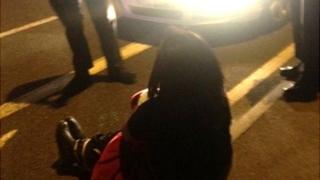 Two police officers who stopped a car containing three women and a baby in Hertfordshire have been cleared of threatening behaviour and racist comments at a misconduct hearing.
The women, returning home to Manchester from a conference, were kept informed during an investigation of claims which were "unproven", police said.
The incident happened on the A10 at Cheshunt on 10 October 2013.
No action will be taken against the officers, the spokesman said.
The women's BMW car was pulled over on the approach to the M25 at about 01:45 BST. They were travelling at about 30mph in a 50mph zone.
The women claimed police officers smashed their car window as a woman sat in the driver's seat with a baby on her lap.
The incident was recorded by one of the women on her mobile telephone.
Independent technical experts analysed the recording and decided it was "poor", police said.
"Despite the allegation there was no racist language used by attending police officers," the spokesman said.
The incident was investigated by Bedfordshire, Cambridgeshire and Hertfordshire Professional Standards Unit.
The women did not attend the misconduct hearing and were told of the "unproven" verdict by letter.
The BBC has been unable to contact the women.