Claire Allnutt's parents complain to GMC over daughter's death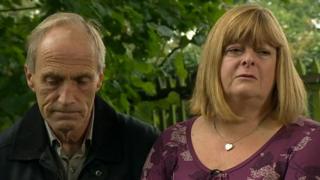 The parents of a woman who died after her catheter became infected say staff had "only 20 minutes' training" on the system that should have spotted it.
Richard and Ann Allnutt have reported five doctors at Luton and Dunstable Hospital to the General Medical Council following their daughter Claire's death in January 2014.
The 28-year-old died five days after it was noticed a tube needed replacing.
The hospital said "all staff" had "reflected and learned" from events.
"This has resulted in a number of changes to practice, which are being constantly monitored and evaluated," a statement said.
Ms Allnutt, from Luton, was admitted to the hospital in November 2013 and treated for the flesh-eating disease necrotizing fasciitis.
She developed septicaemia and died from a cardiac arrest on 29 January 2014.
'Lack of urgency'
An inquest last October found "a failure in the system of observation, monitoring and documentation" of her condition, which resulted in a "lost opportunity to render further medical attention".
In a complaint to the GMC, Mr and Mrs Allnutt's lawyer Carole Watts said there was a lack of urgency in removing the peripherally inserted central catheter (PICC) line and the failure to monitor Ms Allnutt's condition.
She said an electronic reporting system, known as the National Early Warning Score (NEWS), showed she was deteriorating but nobody appeared to have acted.
Ms Watts said details obtained from a Freedom of Information request "seemed to show that staff may have had only 20 minutes' training [on the system] before being expected to use it".
"It's of great concern to Claire's parents that the staff... may not have been adequately trained," she said.
But a complaint had been made about individual doctors because they "ultimately they decide what action is needed" and the family hopes their actions are now "fully investigated", she said.