Paul Foster shooting: Coroner's anger at witnesses' silence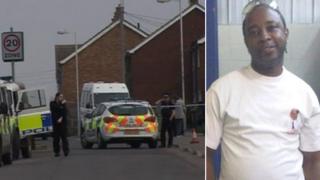 A coroner has condemned the absence of information about the fatal shooting of a community worker, describing it as a "shameful state of affairs".
Paul Foster, 46, was shot in the chest on the Lewsey Farm estate in Luton on 9 April 2013.
No-one has been charged with his killing. Police believe his shooting was a case of mistaken identity.
Tom Osborne, recording a verdict of unlawful death, said covering up the crime "diminishes us as a community".
Father-of-three Mr Foster, known as Big Shyne, died at Luton and Dunstable Hospital.
His attack was one of 27 separate shootings related to drugs and feuding gangs in the town in a year.
Four men were arrested in connection with his death, three in 2013 and one in 2014, but all were released without facing any further police action.
Sgt Sam Khanna said it had been an "extremely difficult investigation".
"It's very unusual for us to be two years down the line without having someone convicted," he said. "It's been quite slow moving at certain times but we are still hopeful of getting someone convicted and brought to justice."
Saundra Glenn, community advocate, said Mr Foster's family had chosen not to attend the inquest in Ampthill.
"They are feeling a little bit let down, more than a little bit betrayed and they feel they are being unduly tagged as the perpetrators of the crime rather than the victims of the crime," she said.
"They're feeling let down by the police and the policing system. Two years in April is a long time for the family to wait for closure."
A £10,000 reward has been offered for information that leads to convictions.