March Christmas lights family sent 'pikey' abuse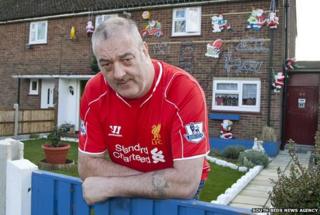 A family whose house is still covered with Christmas decorations dubbed "grotesque" say they have received an abusive letter calling them "pikeys".
Lights and Father Christmas figures can still be seen on the outside of Kevin Franklin's house in Dunstable.
An anonymous letter says the "tacky" display is a "disgrace" and is spoiling the "lovely community".
Mr Franklin said he was "upset" by the letter but planned to put up more lights, rather than take them down.
Eleven weeks after 12th night, the traditional cut off point for Christmas decorations to be packed away for another year, the Franklins' house is still looking festive.
The abusive letter, written by "a very disgruntled citizen" and addressed to "the pikey's (sic) that live at number 80", says the house "looks a state" and "sticks out like a sore thumb".
Mr Franklin, who was critical of the letter writer's grammar, said he had a stroke in November and was happy that a friend offered to put up the lights shortly afterwards.
He said he did not want to be a burden by asking him to "keep putting them up, taking them down, putting them up again".
"They're not coming down," Mr Franklin said. "They're not doing anybody any harm.
"I don't switch them on until it comes nearer Christmas, apart from they're now going to go on in April which is autism aware month, because I have a 15-year-old autistic son."
Mr Franklin said he would add to the display ahead of next month's switch on.
"We're going to make sure the house is covered and really give them something to whine about," he said.
"The principle is nobody tells me what to do in my house."