Stuart Docherty appeal over Henry Huggins attack thrown out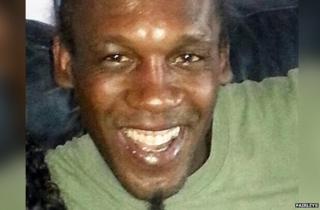 A man who stamped on the head of an unconscious 48-year-old after a row about a dog has had an appeal against his jail sentence thrown out.
Henry Huggins from Luton has been in a coma since the attack on 8 August 2013.
Stuart Docherty, 40, was was jailed for 12 years and given a five-year extended licence period after admitting causing grievous bodily harm with intent.
But three Appeal Court judges said he had rightly been dubbed dangerous and his sentence was "not excessive".
London's Criminal Appeal Court heard how Henry Huggins was attacked outside his Luton flat by Docherty and his friend, James Early.
Early had confronted Mr Huggins, his neighbour, about his dog - which they had previously argued over.
A row followed and Mr Huggins was punched to the ground.
Docherty, of Townsley, Luton, then arrived and stamped on Mr Huggins' head.
The victim suffered serious brain damage and remains in a "persistent vegetative state".
'Dangerous' appellant
Docherty was jailed in November after sentencing at Luton Crown Court where Judge David Farrell QC described his involvement as a "heinous and grossly wicked act".
Challenging his sentence, his lawyers said the term was too long and he posed no serious danger to the public.
The court heard Docherty had 34 previous convictions, including some for violence, and had been arrested more than 100 times.
Mrs Justice Elisabeth Laing said the judge was right to pass the sentence he did.
"He was entitled - on the basis of the probation report, the psychiatric report and, not least, the terrible nature of this offence - to conclude that this appellant was dangerous," she said.
The ruling means Docherty will serve at least eight years behind bars before he is eligible for parole.
Early, 40, of Whipperley Ring, Luton, was convicted of assault causing actual bodily harm in October and jailed for two-and-a-half years.