Radlett rail freight depot petition gains rapid support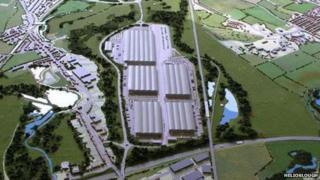 A petition urging a county council not to sell green belt land earmarked for a rail freight terminal received more than 1,800 signatures in 24 hours.
The development at the former Radlett Airfield was approved in July and St Albans Council lost its latest appeal against the plans on 13 March.
Hertfordshire County Council owns about 300 acres of the land.
It said it would consider whether to sell it to developers Helioslough when all legal action has ended.
The freehold of the land was transferred to the county council in 2006 with a covenant limiting its use to "agricultural, open space and recreational purposes" for 21 years.
Appeal dismissed
Organisers of the Don't Sell Green Belt to Helioslough petition said the county council's "prime duty is to local residents".
The petition requests the council refuse to sell its site to the developers.
The county council said it has "deferred any decision on the possible disposal of its land" until after 13 April, the date by which St Albans District Council has to decide whether to challenge the latest High Court ruling.
The proposal for the Strategic Rail Freight Interchange was first lodged by developers in 2006.
Following a second developer appeal, Communities Secretary Eric Pickles backed the scheme in December 2012.
The council applied for a judicial review in February 2013 but the High Court turned the request down.
Mr Pickles finally approved the scheme in July, claiming the benefits outweighed the harm to the landscape.
St Albans Council argued he illegally allowed the developers to appeal when planning permission had been refused, but the High Court disagreed and dismissed the council's appeal.