Luton Airport planes put on 'collision course' by controller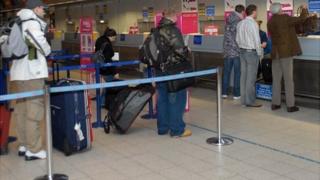 A passenger plane was put on a collision course with another aircraft because of a mistake by an air traffic controller, a report has revealed.
The Airbus A319 left Luton Airport on a different route to the one planned, on 12 September, UK Airprox Board said.
It was told to climb to 5,000ft (1,524m), which could have put it in conflict with another A319 on a positioning flight with no passengers.
The controller realised his mistake straight away and issued instructions.
In a statement NATS, formerly known as National Air Traffic Services, said: "Safety was not compromised, there was no risk of collision and the minimum separation standard of at least three miles was maintained.
"The controller immediately realised the error and gave appropriate corrective action."
'Avoiding action'
He told the UK Airprox Board, which investigates near-misses, he mistakenly thought the first plane was on a departure route which turned right after take-off instead of the route it was actually on, which turns left.
He gave the pilot permission to climb to 5,000ft (1,524m) but because the plane was turning left this action "brought the aircraft into confliction" with a second Airbus.
The controller, based at Swanwick Control Centre in Hampshire, realised what he had done and issued a new instruction to the first pilot and then gave the second pilot "avoiding action", the report said.
The board said the minimum separation between the two planes was 3.5 nautical miles (6.4km) horizontally and 100ft (30m) vertically.
It heard there had been a number of ways the first plane's take-off route was available to the controller and he "could offer no reason" to explain the mistake.
A spokesman from NATS said the controller had not faced any disciplinary action as the minimum separation distance between the two planes was not breached.
The Airprox report did not give details of the airlines involved.