Three arrested after arson linked to Habib Ullah verdict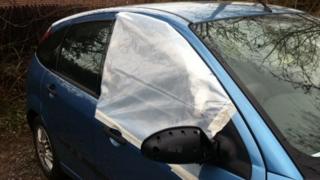 Three people have been arrested after a car was set on fire in the latest vandalism incident linked to the death of a man searched by police.
Men aged 19 and 22 and a boy of 17, all from High Wycombe, were arrested after the attack in Arundel Road on Thursday.
Previously about 130 cars were targeted in the town after an inquest into the death of Habib Ullah recorded a verdict of death by misadventure.
Mr Ullah, 39, died after being stopped and searched by police in 2008.
Several other vehicles were also damaged in the latest incident.
The three men are currently in custody on suspicion of committing criminal damage.
Sgt Darren Mitchell said police responded to calls from the public.
In March, eight people were arrested after windows were smashed and graffiti painted on vehicles, including the slogan "NJNP" - thought to stand for No Justice No Peace.
Mr Ullah, also known as Paps, from Slough, Berkshire, collapsed during a routine stop and search in a car park at High Wycombe in July 2008.
Following the inquest verdict, a police misconduct hearing is to be held.
Thames Valley Police said there was a case of "gross misconduct" to answer.
Independent charity Crimestoppers has offered a reward of up to £1,000 for information relating to criminal damage to vehicles in High Wycombe.