St Albans 'accordion man' memorial plaque petition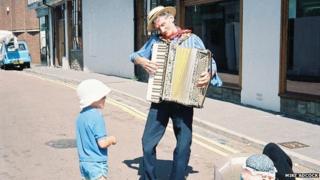 Nearly 1,000 people have signed a petition calling for a memorial to a musician known as the "accordion man of St Albans" on the spot where he played.
John "Paddy" Delaney, who died on 31 March aged 86, spent more than 35 years entertaining people in the city's market place.
Petition organisers said a plaque at his "spot" near W H Smith would be a "fitting tribute" to him.
The petition on the St Albans District Council website closes on 14 May.
It was organised by Miriam Skelton and backed by posts on the Accordion Man of St Albans Appreciation Society page on Facebook.
Katherine Hann posted that he "lit up the world with his infectious humour", while Harry Scoffin posted "there should be a commemorative plaque" to "a towering figure in the history of St Albans".
'Young and old'
St Albans singer Melanie Wall has organised a busking event and street collection to raise money for a suitable memorial.
"Performing in the city centre and entertaining young and old seemed a very fitting way to raise funds and also to celebrate his life," she said.
She has been granted a street collection licence by the district council.
Mr Delaney's granddaughters were "very happy and touched with everything done," she said.
The council said the petition could be presented to a meeting of the authority and would be considered.