Little Barford air crash: Coroner records 'accident' verdict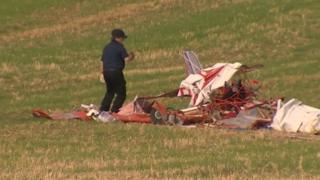 A pilot who survived a mid-air crash saw the other plane seconds before the two collided, an inquest has heard.
Graham Waller, was flying a Cessna from Fowlmere Airfield to Sywell, in Northamptonshire, last September, when it hit a red Denney Kitfox and crashed into a field near Little Barford.
Kitfox pilot Stephen Spavins, 46, of Surfleet, Lincolnshire, died instantly from multiple injuries.
Bedfordshire coroner Tom Osborne recorded his death was "an accident".
Ampthill Coroners' Court heard Mr Spavins was flying from a private air strip near his home, in Lincolnshire, to Sandy Airfield, in Bedfordshire, on 23 September when the crash happened.
The inquest heard both men had been flying to work and the aircraft were flying between 2,000 and 3,000 feet.
Visibility was generally good but there was a low sun and an area of haze.
'Flash of red'
Mr Waller, of Whittlesford near Cambridge, said he saw a "flash of red" before the crash, then struggled to pull his four-seater plane out of a nose dive following the collision.
Describing the moment of impact, he said: "It was not a big bang as you would expect but a soft bang followed by a scraping sound."
He eventually landed safely at disused Thurleigh Airfield near Bedford, where he alerted the authorities.
Mr Spavins crashed into a field at Rectory farm near the Black Cat roundabout on the A1 .
Anthony Severs, from the Air Accidents Investigation Branch (AAIB), told the court there were "no mechanical defects on either plane".
He said he had concluded "both aircraft were trying to take evasive action but they had just not seen each other soon enough".
Mr Osborne said he had "no choice but to accept findings of the AAIB" and formally recorded Mr Spavins died as a result of an accident.