Luton and Dunstable Hospital research finds it 'overlooks' obese children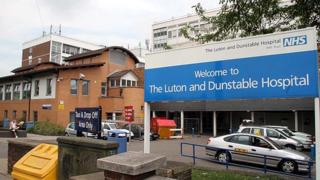 Health professionals are overlooking obese and overweight children, research by Luton and Dunstable Hospital has found.
The trust found one in four of the 407 children it studied at the hospital's outpatients department over a 10-week period were obese or overweight.
It said only 34% of obese children and 2% of overweight patients were offered advice or specialist support.
The hospital said it was currently training an obesity nurse specialist.
The Luton and Dunstable Hospital Trust's study found 11% of child patients visiting the department were obese and 14% were overweight, but few were offered intervention compared to underweight children who were all investigated and given follow-up support.
The National Institute for Health and Care Excellence (NICE) guidance says healthcare professionals should aim to create a supportive environment that helps a child who is overweight or who has obesity, and their family, make lifestyle changes, the report said.
The trust, which is presenting its findings to the Royal College of Paediatrics and Child Health's (RCPCH) annual conference, claims the guidelines are not being followed for a variety of reasons including time constraints, lack of training and "fear of damaging the doctor-patient relationship".
'Cultural shift'
Paediatrician Dr Thomas Waterfield said a "cultural shift" was needed in addressing children being overweight and also suggested GPs needed to bring the topic up with young patients.
"If one in four children reaching outpatients' are obese or overweight and it's not being reached before they reach the clinic, that would suggest to me that it's not being recognised in primary care," he said.
Dr Waterfield said the obesity nurse specialist would offer support to clinicians and additional training and education with a view to changing their attitudes towards obesity.