Lorry 'immigrants' on run in Bedfordshire after 999 call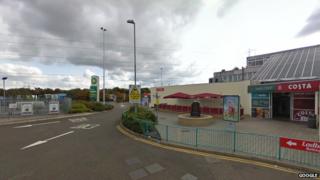 Four suspected illegal immigrants are on the run after a lorry containing ten people was discovered by police following a "distress" call from one of the people inside.
A person claiming to be in a vehicle on the A414 at North Weald, Essex, called police at 08:30 BST on Wednesday to say it had earlier been in Ashford in Kent.
The lorry was found by Bedfordshire Police at Toddington Services, on the M1, in the afternoon.
Six people are being held in custody.
Supt Trevor Roe, from Essex Police, said it was a "positive outcome".
"We've seen with human trafficking....the events could turn out to be very tragic so I think it was important we reacted fairly quickly across our neighbouring forces to try to locate the vehicle," he said.