Jury shown moment of Aylesbury shop worker stabbing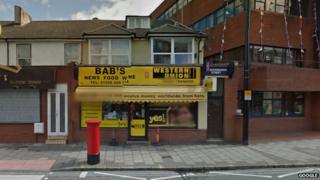 A CCTV recording of the moment a shop worker was stabbed in the neck by a customer has been shown to a jury.
David Clarke, 63, of no fixed address, has denied the attempted murder of the employee, at Bab's Food and Wine Store in Buckingham Street, Aylesbury, last September.
He has also denied wounding with intent at Reading Crown Court.
The victim, who is in his 20s, almost died and is still in hospital.
The court heard Mr Clarke had been admitted to the Whiteleaf Centre, which provides mental health services in the town, in August.
He had been suffering from a personality disorder and was paranoid but was not on any medication and was free to come and go.
'Kicked out'
Due to be discharged the following week, he told a member of staff he felt he was being kicked out with nowhere else to go.
CCTV images showed a man, alleged to be Mr Clarke, walking up to the counter in the shop to order some lager, then stabbing the victim in the back of the neck with a kitchen knife as the shop worker bent down.
Mr Clarke then appears to leave the store and walk down the street, before getting into a black taxi and returning to the Whiteleaf Centre.
Once there, he spoke to another patient who told staff Mr Clarke said he had "just stabbed someone", the court heard.
The case continues.