Boxer Billy Joe Saunders fined over pensioner dog bite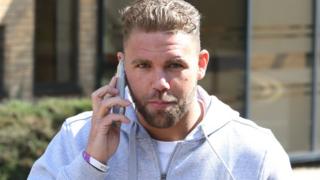 Boxing champion Billy Joe Saunders has been fined after his guard dog bit a pensioner who then needed a skin graft.
Magistrates heard the German shepherd attacked the 73-year-old outside a shop in Much Hadham, Hertfordshire.
Aaron Chalkley, who had taken Saunders' dog from the stables where it was kept in Peggs Lane, was fined £1,500.
The WBO world middleweight title holder admitted failing to display a guard dog warning sign and said he was "very very sorry".
He was fined £205 by Stevenage Magistrates' Court.
Prosecutor Roseanne Smith said Chalkley, 24, had tied the dog up while he went into the shop on 13 September.
Shortly after he returned, William Thorlin walked by and the dog lunged, "clamping his left forearm above the wrist."
His injuries required a skin graft from his thigh to his left arm and stitches to his left hand.
Chalkley admitted having a dangerous dog out of control.
Officers subsequently charged Saunders with the offence of not displaying a guard dog warning sign after tracing Chalkley back to the stables.
The boxer said the sign "was in a truck" but he "had not put it up" and that had since been corrected.
He told the court he had not given his friend permission to take the dog away from the site.
Saunders added he "was let down by a friend. I am very very sorry for what happened and want to pay £500 compensation to the victim."