Oldest London marathon runner Iva Barr calls it a day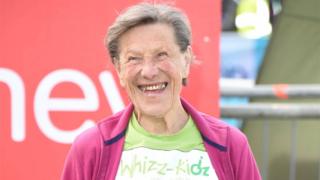 An 88-year-old woman who became the oldest competitor in this year's London Marathon has confirmed Sunday's event will be her last.
Iva Barr, from Bedford, was taking part in her 20th marathon, completing about 14 miles of the route.
Ms Barr has been running marathons for "30-odd years" and took part in the first London Marathon in 1981.
She said she would "never forget" her final attempt at the famous event, despite not quite completing the route.
Ms Barr tackled the first 14 miles of the marathon before taking an Underground train to Westminster, and walking the final part of the course to The Mall.
'No regrets'
"I rather wanted to go out in a blaze of glory," she said. "That didn't happen but I still had a great day."
And she said she had "no regrets" about giving it a go.
"I just thought 'I really can't do this and I don't think I should carry on'," she said.
"But in the end I only didn't do about eight or nine miles, because I gently walked the last couple of miles to the finish line.
"It was so wonderful, everybody was fantastic with me, especially the young people. I will never forget it."