Missing Helen Bailey: Police believe 'foul play' unlikely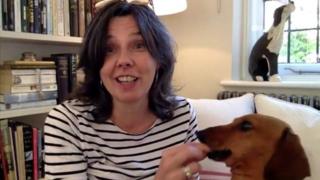 Officers searching for a missing children's author have said there is nothing to indicate "foul play" in connection with her disappearance.
Helen Bailey, who wrote the Electra Brown series for teenagers, was last seen walking her dog near her home in Royston, Hertfordshire, on 11 April.
The 51-year-old said she "needed a little time to herself" before going missing.
Officers are continuing to view hours of CCTV footage from the local area.
Ch Insp Julie Wheatley, of Hertfordshire Police, said the writer's disappearance was "a mystery."
"We don't believe there has been any foul play, there is nothing to indicate that at this stage," she said.
Read more on this story and others from across Hertfordshire
She said Mrs Bailey's partner went out to run some errands, after which the author was spotted walking her miniature dachshund Boris, but neither have been seen since.
There have been no financial transactions, no activity on the phone officers believe she was carrying, and no social media activity, police said.
Chief Insp Wheatley appealed directly to dog walkers and farmers in the area to help with the case, which she said is "quite perplexing."
"We know Helen adored her dog Boris. My appeal would be to fellow dog lovers, if you have seen Helen, if you recognise her dog Boris, a quite distinctive miniature dachshund, then please contact us."
The force has investigated several possible sightings.
Northumberland-born Mrs Bailey is best known for her novels, but also began writing an online blog called Planet Grief after her husband, John Field, drowned in February 2011.
In her most recent post, she wrote about the fifth anniversary of her husband's death, in which she claimed their lives "were too tightly woven for death to completely destroy the links between us".
She is understood to have connections to Kent, Northumberland and London.