Cheshunt hammer and knife neighbour attack woman 'was insane'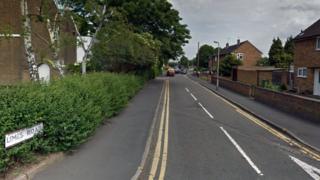 A woman accused of trying to kill her neighbours with a hammer and knife has been found not guilty of attempted murder by way of insanity.
Emma Tudor Worrall, 42, attacked Luigi and Anna Guido outside their home in Limes Road, Cheshunt, Hertfordshire on 19 April last year.
The jury at St Albans Crown Court was urged to find her not guilty if they agreed with psychiatrists she was "insane at the time".
Her future will be decided on Friday.
The court heard Ms Tudor Worrall attacked Mr Guido from behind, wounding him in the head as he stood in his porch.
"As he bent over... he suddenly felt pain to the back of his head," prosecutor Ann Evans said.
"He turned and saw his neighbour... holding a hammer in her right hand and a kitchen knife in her left hand. She told him she was going to kill him.
"As he put it, she seemed angry and completely crazy."
'Disease of the mind'
When Mrs Guido came outside Ms Tudor Worrall swung the knife at her. The couple took cover behind a door while their attacker began smashing windows, shouting that she wanted to kill them.
She believed her victims had stolen her dog, the jury was told.
When the police arrived they had to Taser the defendant after she ran at the officers' vehicle, brandishing the large kitchen knife.
She was found to be too unwell to be interviewed and has been detained in a secure hospital under the Mental Health Act since the attack.
The jury heard Ms Tudor Worrall, who denied two counts of attempted murder, had a history of mental health issues.
Psychiatrists' reports concluded at the time of the attack she was "labouring under such a defect of reason from disease of the mind, so as not to know the nature and quality of the act, or, if she did know, she did not know it was wrong".
Both the defence and prosecution urged the jury to find her not guilty if they agreed she was "insane at the time".
Ms Tudor Worrall will appear before the judge on Friday.