A10 deer crash victims died when vehicle hit their stationary car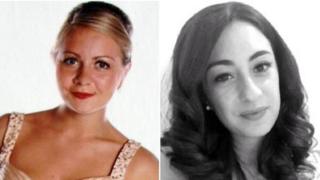 Two teenagers whose car stopped when it hit a deer were killed when their vehicle was hit by another car and burst into flames, a court has heard.
Daniela Ruggiero, 18, and Charlotte Dove, 17, were in a Citroen C1 that came to a standstill on the A10 in Hertfordshire on 15 October 2013.
It then caught fire when it was hit at 68mph by Luiz Rocker's Volvo V40, leaving both teenagers trapped inside.
Mr Rocker, 48, denies causing their deaths by dangerous driving.
The court heard Mr Rocker had failed to brake in time or reduce his speed.
Spark ignited
St Albans Crown Court heard Ms Ruggiero, from Hoddesdon, was driving on the northbound carriageway between High Cross and Standon at about 07:45 BST when a deer leapt over the central barrier.
Prosecutor Peter Shaw said Ms Ruggiero reacted by braking, but her car struck the animal and she stopped.
"Mr Rocker's vehicle collided with the rear of that now stationary Citroen car," Mr Shaw said.
"As the car was shunted forward, a fragment of the car underside struck a drain cover at the side of the road, thus creating a spark that ignited the fuel vapour and liquid fuel.
"This engulfed the car and its interior in flames, making escape and survival impossible for the two young women."
The court heard Mr Rocker, from Ware, Hertfordshire, should have been paying more attention to what was ahead of him and failed to take steps to avoid the collision.
Accident investigators worked out Mr Rocker's vehicle slammed into the rear of the stationary Citroen 5.8 seconds after it had struck the deer.
The jury heard the defendant had tried in vain to free the teenagers from the Citroen.
The trial continues.