Natalia Doherty death: Body in garden case brothers in court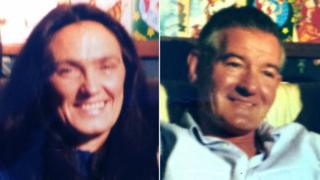 Two brothers charged in connection with the discovery of a woman's body in a back garden last year have appeared in court.
Mother-of-three Natalia Doherty, 50, was last seen in 2003 and her body was found in a garden in Luton last year.
Joseph Doherty, 72, of Port Glasgow and Daniel Doherty, 67, of Icknield Way are accused of obstructing a coroner and perverting the course of justice.
Joseph Doherty is also charged with preventing a lawful burial.
Ms Doherty, who was also known by the surname Wilkanowska, was last seen on 15 April 2003 in Eastbourne, where she was living at the time.
'Knowingly concealed'
Her remains were discovered in December 2015 in the back garden of Daniel Doherty's house in Icknield Way.
Detectives believed she had travelled to Luton to stay with her ex-husband Gerald Doherty at the now-demolished Regents Arms on Hastings Street.
Luton Magistrates' Court heard both men are charged with knowingly concealing Ms Doherty's body in the back garden of Daniel Doherty's house in Icknield Way,
It is alleged they committed all the crimes alongside Ms Doherty's late ex-husband Gerald Doherty.
The pair were released on bail to appear at Luton Crown Court next month.