Alleged slavery victim 'not forced to live with' St Albans couple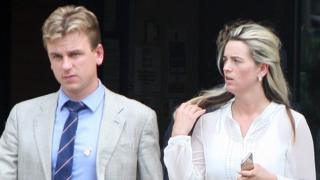 A homeless man who is alleged to have been held as a slave has admitted he voluntarily went to live with the family accused of exploiting him.
Cameron Biggar, 43, was allegedly held by Johnny Moloney, 30, and Shanon Loveridge, 22, between 2010 and 2014.
The couple deny knowingly holding a person in slavery or servitude and knowingly requiring another person to perform forced labour in St Albans.
Mr Biggar admitted "no force" was used to get him to go with Mr Moloney.
The prosecution at St Albans Crown Court alleged he was made to carry out unpaid block paving and building work up to 14 hours a day, sometimes seven days a week.
'Alcohol dependency'
Although the charges begin in 2010, when an Act of Parliament came into effect, it is claimed he was required to perform forced labour from 2004,
When he was picked up on the Strand in June 2004 and went to St Albans, the former night porter admitted he was "down on his luck" and would only be sober for about an hour a day.
"I was suffering from depression and alcohol dependency," he said.
Lewis Power QC, defending, said: "You voluntarily got in the car. No pressure or force was used?"
Mr Biggar agreed, adding: "I had the idea the people were travellers. They had Irish accents. I saw it as an opportunity not to be homeless any more."
He agreed he had been made to feel welcome when he arrived at the Moloney family home in Watford Road, St Albans.
The court was told that after travellers were arrested in 2011 for slavery offences in Leighton Buzzard, 20 miles away, Mr Biggar was paid £30 a day.
Under cross examination, Mr Biggar admitted he had 19 convictions for 47 offences, including burglary, theft, affray, and causing actual bodily harm.
The case continues.