Plaque honours 'accordion man' of St Albans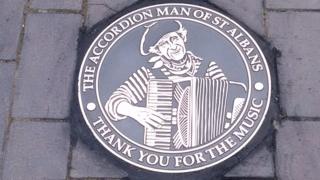 The life of a musician known as the "accordion man of St Albans" has been honoured on the spot where he played.
John "Paddy" Delaney, who died on 31 March 2015 aged 86, spent more than 35 years entertaining people in the city's Market Place.
About 1,000 people signed a petition to have a plaque put in place at his busking spot.
The bronze cast disc has now been installed in the ground and will be officially unveiled in September.
St Albans singer Melanie Wall said: "I am chuffed to bits that Paddy now has a plaque and so are his fans and family.
"And though I may have been at the helm of the project, I've definitely had the support from the whole community, it's been amazing."
'Infectious humour'
The petition had been set up by the Accordion Man of St Albans Appreciation Society page on Facebook.
Supporters said he "lit up the world with his infectious humour" and that there should be a commemorative plaque to "a towering figure in the history of St Albans".
The 12-inch (30cm) circular plaque features an image of Mr Delaney created by local artist Mandy Reekie.
It was funded by money raised at a busking event organised by Miss Wall on 4 July 2015.
She said a similar event would take place on 3 September but will be "purely a celebration of Paddy, the plaque and music".