Steve Backshall gets Helen Glover's Rio Olympic gold medal repaired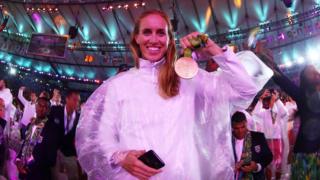 TV nature presenter Steve Backshall has had to take fiancee Helen Glover's Olympic gold medal to be repaired after he dropped it on a concrete floor.
Rower Ms Glover won the women's pair in Rio with partner Heather Stanning, defending the title won at London 2012.
Mr Backshall, who lives with Ms Glover in Buckinghamshire, took the medal to Bourne End Jewellers.
Richard Bull, the firm's head gold and silversmith, said he helped get Mr Backshall out of "a sticky situation".
LIVE: For more on this and other Buckinghamshire stories
The couple, who met in 2014, are due to get married later this month.
Ms Glover, originally from Cornwall, revealed how Mr Backshall had damaged her medal during an interview with BBC Breakfast and later tweeted an apology for "dobbing" on him.
Mr Bull, who repaired her medal said: "It was brought in to me and I could see it had been dropped obviously and I said to Helen's fiancé (Steve Backshall) who brought it in that it looked like it had been dropped on concrete and that's pretty much what had happened.
"He admitted to having dropped it himself.
"It was damaged on two edges - on one edge quite badly and the other less badly. But it was quite a mission to restore it.
"They are pretty heavy and bigger than you think. They are about 4in in diameter and must weigh half a kilo and they are solid silver in actual fact and gold-plated on the top so they are a very special piece of jewellery really.
"I feel very honoured to have been trusted with restoring such a priceless object.
"I am very pleased with the way it came out and I think Helen Glover is very pleased as well."
Ms Glover, who is due to have a victory parade through her home town of Penzance on Sunday, has won three world championships as well as two Olympic golds and is unbeaten in 39 races over five years alongside Ms Stanning.
Mr Backshall has presented CBBC show Deadly 60, the Really Wild Show and Steve Backshall's Extreme Mountain Challenge on BBC Two and was a contestant on Strictly Come Dancing in 2014.
---
Medal Mishaps