Airlander 10's base to move from Cardington, Bedfordshire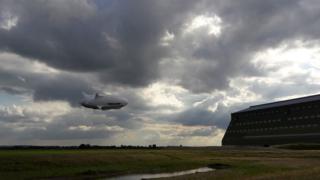 The firm behind the world's longest aircraft has said it is relocating its operations to help the project grow.
The Airlander 10 - a combination of a plane and an airship - has taken shape at Hangar 1 at Cardington Airfield, Bedfordshire, over the last four years.
It is not yet known where its new home will be, but a film company which occupies the next door hangar is due to take up the vacant space.
Hybrid Air Vehicles (HAV) said it was the "right" and "pragmatic" decision.
"The success of Airlander means that we have had to review our needs for the future," said executive director Tom Grundy.
"Establishing new buildings at a new site will allow us to be sure that we have the facilities we need for the future, while allowing the film industry to take up the space it requires in Cardington."
HAV said further announcements about its move would be made in the coming weeks.
It said its engineers and office-based teams will start working from its new location from the beginning of December.
The £25m aircraft returned to the sky in May after it had a heavy landing during a test flight in August 2016.
It then reached its highest ever altitude, 3,500ft (1,076m), in June.
HAV is hoping to build six Airlanders a year from late 2019, some as passenger aircraft that will carry up to 48 people at a time.
Other plans include assisting with coastguard duties and providing military and civil surveillance.
It could also be used for filming and academic research, or delivering heavy equipment to remote corners of the world or for humanitarian missions, the developers have suggested.