Potters Bar mutilated pet 'linked to Croydon cat killer'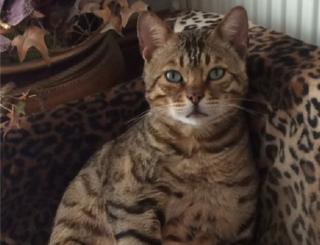 The death of a cat found mutilated in its owner's garden may be linked to the "Croydon cat killer", police say.
The pet, Taz, was discovered in Potters Bar having "suffered several wounds to its body", Hertfordshire Police said.
The force said it was "linking this incident with... similar crimes across the south east being investigated by the Met Police".
Taz, found at the house in Cranborne Road on Monday, had been missing for nearly a week.
People have been advised to keep cats and small animals indoors at night.
Post-mortem tests have yet to be carried out on Taz, but the injuries are consistent with those of other mutilated cats and small animals found across the UK, leading the force to believe the deaths are linked.
The Met Police began investigating a series of "gruesome" killings which initially began in the Croydon area in 2015, after animal charity Snarl - South Norwood Animal Rescue and Liberty - raised concerns.
The suspect initially became known as the "Croydon cat killer".
The Met launched Operation Takahe to investigate the links between animal deaths and last month experts at a new forensic lab in Surrey began re-examining some of the corpses for new evidence.
The death of Taz now forms part of the wider investigation, with Hertfordshire Police saying officers are taking the incident "very seriously".
Tony Jenkins, head of Snarl, said about 250 cats had been killed in similar circumstances since October 2015 and 50 foxes were found with "identical injuries to the cats".
He is also investigating the deaths of five rabbits and two decapitated swans to see whether they might be linked.