Stevenage hospital volunteers support end-of-life patients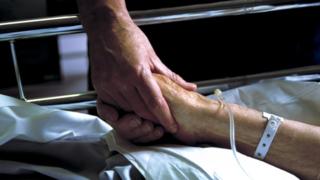 A hospital scheme providing one-to-one companionship for patients in the last days of their lives is to expand.
The Butterfly Volunteers, at Lister Hospital, Stevenage, visit people who have few or no other visitors.
The project, created in May 2016, has built up a team of about 20 volunteers with the aim of making sure no-one dies alone.
Since then, the "absolutely brilliant" team has visited and spent time with 312 adults.
'Reassuring'
"It's about giving them as good a death as possible," said hospital spokesman Peter Gibson.
"Quite often the patient is not going to be conscious or aware of their surroundings - sometimes it's as simple as holding someone's hand."
Carol Bedford, from Stevenage, said work and family commitments meant it had not always been possible for her or her sister to visit their mother Grace Busby in the three-week period she was in hospital before she died, aged 90, in May.
"It was reassuring that someone was with her if we couldn't get there," she said.
"The ladies from Butterfly were absolutely brilliant - they used to hold her hand, offer words of comfort, so we knew mum did have someone with her all the time."
The team has been awarded £64,450 to help to expand.
"The donation from the Dunhill Medical Trust will allow us to consistently extend the service to seven days a week, recruit more volunteers, with the aim of making 6,000 visits over the next three years," said volunteer co-ordinator Angela Fenn.
Peter Gibson explained that people die alone in hospital for many reasons.
"They may have family, but not necessarily nearby, perhaps overseas, or on holiday, and increasingly families are becoming smaller so the numbers of people to be there for somebody in their last hours is becoming limited," he said.