Child exploitation 'ferociously absorbing' police resources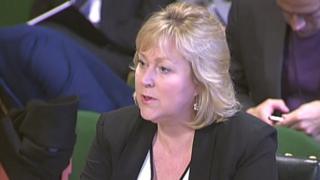 It could take five years to investigate current allegations of child sexual exploitation, a police and crime commissioner (PCC) has warned.
Bedfordshire PCC Kathryn Holloway told MPs the issue "ferociously absorbs police resources".
She said six major investigations were ongoing in the county, including claims of girls from a children's home being raped at parties.
The number of staff available to build cases was "so limited", she said.
"I've asked local authorities to give us social workers to go out with our officers, but without them it'll take us five years to actually interview and properly investigate," she said.
Ms Holloway, a Conservative, told the Home Affairs Select Committee Bedfordshire Police was "in the worst position" of any force in England and Wales, having already cut its spending by about a third, and needed 300 extra front-line officers.
She called for an extra £10m a year for the force "as an absolute minimum" and for previous spending cuts to be reversed.
A Home Office spokesperson said the government had "protected overall police spending in real terms" since 2015.