Missing cat and Watford schoolboy 'find' each other after three years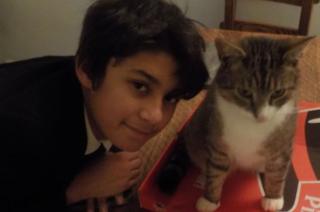 A boy who befriended a stray cat at his school was amazed to find the animal was his own kitten which had gone missing three years earlier.
The cat began "living" at Watford Grammar School for Boys this year and became loved by William McArthur, 12.
A vet found it was microchipped, its name was Whisky, and it was registered to William's family who live two miles from the school.
William said it was "brilliant" to have his now fully-grown kitten back home.
The cat turned up at the secondary school in early 2017 and became a frequent visitor, sunbathing in the entrance hall during the summer, and sleeping in the music room until he was put out at night by staff.
William had a "particular fondness" for the animal - which staff named Fergus - and would sneak in treats for the cat, the school's development director Hollie Rendall said.
Staff assumed the cat lived with his owners nearby, but as his visits became more frequent and prolonged they took him to a vet to be checked.
His microchip revealed his real name was Whisky - and he was the kitten which went missing from William's family home in Garston more than three years previously.
Whisky had "done a runner" shortly after being neutered and the family had "long given up on Whisky... coming back", William's father said.
"We asked where he had been, and the vet said that Whisky had more or less made [the school] his home. I found that incredible, as my son William started there in September."
Whisky is now back at his original home, living happily with the McArthurs.