Hertfordshire hospitals trust out of special measures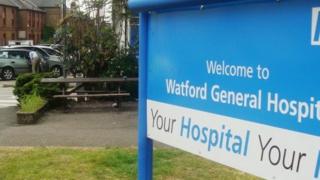 Watford, Hemel Hempstead and St Albans hospitals have been taken out of special measures, but there is still work to do, a new report has said.
The West Hertfordshire Hospitals NHS Trust was rated "inadequate" in 2015 and put in special measures by the Care Quality Commission (CQC).
After inspections last year, it is rated as "requires improvement" overall.
NHS Improvement said it had made "sustained improvements".
The trust went into special measures after the CQC said it was "concerned about the safety and quality of care" and had worries about low staff morale.
Since then it had been supported by NHS Improvement to help it make "significant and sustainable improvements to patient services".
'Relentlessly focussed'
Inspectors also commented on the "strong, supportive and visible" leadership and noted "a positive culture".
The CQC gave it a requires improvement rating in March 2017 but it remained in special measures.
Subsequent CQC inspections and a recommendation from the chief inspector of hospitals, Professor Ted Baker, led to the decision to move the trust out of special measures.
Watford General's emergency department is still rated as "inadequate" but the trust said since an August inspection it had seen "week-on-week improvements".
Trust chief executive Katie Fisher said there had been "very significant improvement" in the number of services rated good.
"Clearly we're not done, we're on an improvement journey... as a team we are relentlessly focussed on making sure that we can deliver the best possible care for every single patient," she said
Dr Kathy McLean from NHS Improvement said: "Every single member of staff who has contributed to these changes can be justifiably proud.
"There is of course much work still to do to ensure that patient services are the very best they can be."