Youth footballer's dad 'headbutted' rival coach in Dunstable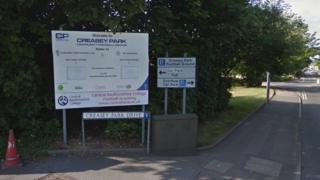 The father of an under-14s footballer has been convicted after "headbutting" the opposition team's coach during a youth match, which broke his nose.
Luton Crown Court heard the attack happened in Dunstable at a match between Dunstable Town and Luton Tigers in November 2016.
Charles Osadinizu, 49, denied hurting Cameron Jenkins but was convicted by a jury at Luton Crown Court of assault, occasioning actual bodily harm (ABH).
He will be sentenced later this month.
Osadinizu was cleared of the more serious charge of grievous bodily harm (GBH) with intent.
The court heard that "tempers had flared" during the under-14s match at Creasey Park, Dunstable, after Luton Tigers had been awarded a penalty.
Coaches from both teams became "engaged in shouting and swearing", the jury was told.
Dunstable coach Mr Jenkins, who was 23 at the time, told the court: "I thought it was wrong - as people do at football matches. I shouted it was wrong. My language wasn't great, but it is part and parcel of football."
He added that he was approached at that point by the defendant.
"The guy continued to come towards me," he told Judge Michael Kay, "at which point he headbutted me and broke my nose".
The prosecution alleged that Osadinizu - whose son played for Luton Tigers - had deliberately headbutted Mr Jenkins.
Mr Osadinizu told the court: "I never meant to hit him in the head. It was an accident."