Yorkshire woman digs up 'lost' ring in Milton Keynes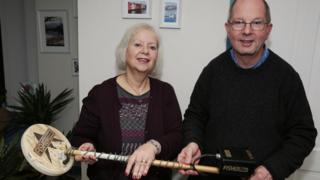 A woman has been reunited with her engagement ring a year after losing it during a Civil War re-enactment.
Debbie Newton was on her way home to East Yorkshire after playing an artillery officer in Buckinghamshire, when she realised her ring had gone.
As reported by The Express, Mrs Newton failed to find the ring a month later in September 2016, but tried again in December 2017 with a metal detector.
The 61-year-old said she was "totally amazed" by the find in Newport Pagnell.
"The metal detector made a sound, so we dug up a large bit of earth and broke it down," she said.
"We got down to a very small piece of earth and thought it was a bottle top, but it was my ring."
The Rawcliffe resident said the discovery was "unbelievable", especially as the ring was in "perfect condition".
During the two-hour search, Mrs Newton, her husband, John, and their metal detectorist friend, also found 51p in change, part of a necklace and "many bottle tops".