Corrupt officer's arrest on TV was 'a defining moment'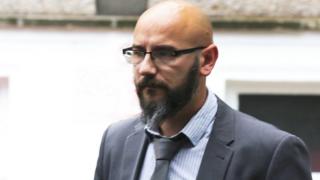 A TV programme which showed the arrest of a detective was a "defining moment" in policing, a chief constable said.
Bedfordshire Police officer Gareth Suffling, 36, was jailed for three years for tracing and blackmailing a prostitute's customer.
His tearful arrest was shown on Channel 4's 24 Hours In Police Custody, which filmed officers on duty.
Chief Constable John Boucher said it showed the force was "transparent" in how it dealt with corruption.
He said: "The programme marks, I think, a defining moment in British policing.
"What is more transparent than letting our communities see who we are?
"On occasions things happen that none of us wants to happen and it's incumbent on us to show our communities how we deal with it."
'Overwhelmed by kind comments'
Suffling, of Osborn Road, Barton-Le-Clay, admitted blackmail after he had written a letter to a prostitute's customer, demanding £1,000 to keep quiet.
Bedfordshire Police allowed 80 TV cameras to follow their officers as they responded to emergencies and crimes.
Executive Producer Simon Ford said: "We were following a blackmail crime and then suddenly everything felt different.
"It turned out it was an officer who was actually working on the blackmail operation who had launched a blackmail bid himself."
In a message on Twitter, Bedfordshire Police said it has been "overwhelmed" by "kind comments" after the programme was broadcast on Monday night.
Also writing on Twitter Emma Carter, from the Bedfordshire Police Federation, urged officers to seek help if they were experiencing money difficulties or debt.
"Don't leave yourself vulnerable, cause you issues at work or to your health," she said.
She later repeated this tweet "due to the number of members" who had contacted them.