Factory worker sacked for urinating in empty can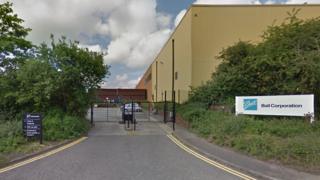 A worker at a plant that produces packaging for drinks brands including Coca-Cola, Carlsberg and Monster has been sacked after he was caught urinating into an empty can.
A spokeswoman for Ball Corporation confirmed the incident happened at its Milton Keynes factory on 28 February.
The temporary worker was dismissed after he "breached hygiene processes".
A witness told the MK Citizen: "Workers are allowed breaks and if he needed the loo, all he had to do was ask."
Read more Beds, Herts and Bucks stories here
The Ball Corporation factory in Northfield Drive is next to one of Coca-Cola's six UK production sites.
'Robust procedures'
A spokeswoman for Ball Corporation confirmed that an employee had been sacked and that the production line had not been affected.
"A temporary employee was found to have breached our hygiene processes and was dismissed from the company," she said.
"We can also confirm that only one can was affected, and that the affected can was not on our production line.
"We take the quality of our products extremely seriously and we submit our cans to stringent hygiene and quality tests before sending them to our customers.
"This incident was identified promptly and appropriate action taken."
A spokeswoman for Coca-Cola Great Britain said it was assured that hygiene procedures at Ball were "robust".
"This is an isolated incident which took place at our external can manufacturing supplier," a statement said.
"We are assured that the single empty can has been discarded, and that there was no impact at all to any other packs or production lines at the Ball facility."