Luton burglars spray bleach in three people's eyes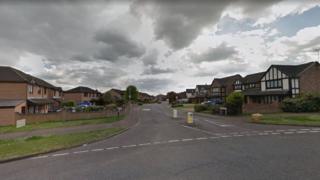 A man has been taken to hospital after bleach was sprayed in his eyes in an aggravated burglary.
Police said five or six offenders broke into the house in Luton and demanded money and jewellery at about 20:45 on Monday.
Two men and one woman in the house were threatened with a knife and metal bar and had bleached sprayed in their eyes at Holford Way in the Bramingham area.
A "significant amount of cash and high value gold jewellery" was stolen.
The men made off in a dark car, police said.
'Horrible incident'
One of the offenders is described as a white, stocky man with ginger hair and beard, while a second man was described as tanned, skinny, and in his early 20s.
Another male was described as a slim and white and about 15 years old.
Det Con Dan Matcham said it was a "horrible incident".
"If you were in the area at the time and saw anyone acting suspiciously, or perhaps a car driving away from the scene at speed, please get in touch."