Junior Luton Town ambassador: My first word was 'hatter'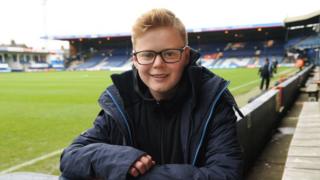 This season, 13-year-old James has been appointed as Luton Town's first junior ambassador. He explains what he's doing and why he loves the football club so much.
When I was a baby, my parents dressed me in a Luton Town FC Babygro and apparently the first word I ever said was "hatter". The team got the name "The Hatters" because the town is known for making hats.
My family has always supported Luton and I went to my first game when I was one - my dad's friend had a box and they took me along. I didn't have a choice at that age but if I had been able to speak I would have definitely wanted to join in.
My room is filled with Luton memorabilia - I've got lots of kits and photos as well as the ticket from that first game.
One of my earliest memories is the team winning the Johnstone's Paint Trophy in 2009 when I was five or six. My favourite player at the time, Claude Gnakpa, scored the winning goal so it was such an exciting day. I had never been to Wembley before.
When Luton advertised the junior supporters' liaison officer role my dad saw it on their website and told me about it, so I wrote in to apply for the job. I had to go through two interviews, the first with the liaison officer and the second with the chief executive of the club, Gary Sweet. They were really nice and it was more like a chat than a difficult interview. I'm a volunteer - so I don't get paid.
I want to make sure that match days are the best they can be for junior supporters. There are things that adults might not notice that really matter to younger fans. We love to get autographs from the players and photos with them. Also it's good to have something fun to do before the game, like family fun days. We don't just want to watch the game, but meet our idols too. They are the people you look up to, but if they are just on the pitch and you never meet them it's not the same.
You can get that much more with a local club than Premier League clubs. I supported Chelsea as well for a bit but I never got anything out of it - with Luton there are more opportunities to meet the team and feel part of what is going on.
I've supported the club for a long time and I want other young people to feel how I do and have fun with it. Something I want to do later in the year is invite young supporters to a Christmas party with the players so they can talk to them. I'm also going to walk around the ground on match days to get junior supporters to vote for their player of the season. One of the young fans will get to present the trophy to the winner.
There are lots of ups and downs with a club like Luton. I've seen them in the Championship, get relegated all the way down to the Conference Premier and then slowly climb back up again. My favourite player at the moment is Elliot Lee and I met him at an open training session this season. When you meet your favourite player it makes you really happy.
I play football at a local club but I don't think I'm good enough to be a professional player. I'd like to work in sport one day but I don't know quite what I will do yet.
James was taking part in BBC School Report, which gives 11-18 year olds across the UK the chance to develop their media literacy skills and produce their own stories about subjects that matter to them.