Woodlands View care home 'unsafe' before fatal fire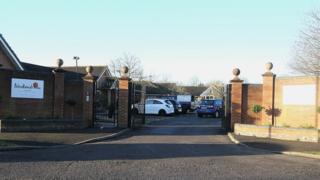 A care home was found to require improvement in all areas by inspectors a month before a fire and explosion killed one of its elderly residents.
A resident in his 80s died and another was left in a critical condition after the fire at the Woodlands View home in Stevenage on 3 February.
The Care Quality Commission found its service to be "not consistently safe" when it was inspected on 3 January.
HC-One, which runs the home, said they take the feedback "very seriously".
The Care Quality Commission (CQC) report found that medicines were not always given in accordance with instructions and some were not dated, making it "impossible" for staff to know when it should be binned.
It also said that some residents' mental capacity was assessed properly but that this was not consistent across the whole home - including documentation not being in place for some.
Inspectors said there were a high volume of bedrails in the home and one resident told them: "I feel trapped and I can't get out of bed and sometimes I don't know what is happening."
The report said the reasons for the bedrails were not "clearly detailed in records" and the home was found to require improvement.
It also added that some relatives said there was a delay in residents receiving medical care, sometimes needing multiple requests for staff to act.
Staff were also overdue on training updates, and the report said that residents, relatives and staff were "not all positive about the running of the home".
A spokesman for HC-One, which took control of the home in December, said: "We take all feedback from the CQC very seriously, and since the inspection back in January, we have implemented a robust action plan to directly address the regulator's concerns.
"Medicine administration procedures are being routinely audited, and we continue to have the right numbers of staff to meet our residents' dependency needs."
Hertfordshire County Council said the investigation into the fire, which is thought to have involved an oxygen cylinder, remains ongoing.