Biggleswade warehouse fire: Firefighters tackle blaze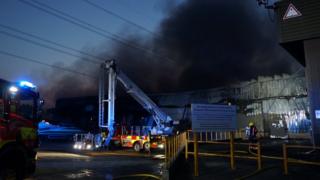 About 70 firefighters tackled a blaze at a food packaging warehouse.
Up to 10 fire engines from Bedfordshire Fire and Rescue were called to a lorry fire at Bedfordshire Growers on Potton Road in Biggleswade at just after 19:00 BST on Thursday.
It said the fire spread to a warehouse building measuring about 20m by 30m (65ft by 98ft).
Residents were recommended to keep windows shut. The fire service said the blaze had been brought under control.
Fire officer Paul Fuller said: "This is quite an arduous incident on the hottest day of the year so far.
"It is a significant incident for our crews to deal with and certainly we'll be here at least into to the night and probably tomorrow.
"As far as we know at this stage there are no people involved in the incident or seriously injured."
Firefighters were checking the back of the warehouse to ensure the fire had not spread.
Potton Road was closed in both directions. Bedfordshire Police and the East of England Ambulance Service were also in attendance.