Florin Oprea jailed for wife and friends' crash deaths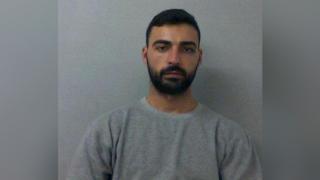 An uninsured driver who fled the country after a crash that killed his wife and two friends has been jailed.
Florin Oprea, 25, of Stacey Bushes, Milton Keynes, was sentenced to nine years for three counts of causing death by careless driving.
He lost control of his BMW car on Stratford Road in the town on 14 December. His wife Ancuta Oprea, 23, died in hospital the next day.
Oprea pleaded guilty and was sentenced at Aylesbury Crown Court.
PC Phil Hanham, of Thames Valley Police, said: "Oprea's wife had travelled to the UK to visit him for his birthday and on that night in the run-up to Christmas 2016, his standard of driving led to her death, leaving her young son without a mother, and the deaths of two of his friends."
He crashed into a Hyundai at about 22:20 GMT.
One of his passengers, Liviu Nacu, 23, died at the scene. Another passenger, Andrei Dumitrescu, 20, died in hospital on 23 December.
Oprea fled the country the day after the crash.
After a European Arrest Warrant was issued, he was arrested in Romania on 22 March and extradited on 12 April.
Oprea also pleaded guilty to three counts of causing death while uninsured and three counts of causing death while unlicensed to drive.
He was sentenced to nine years for each of the six offences, all to run concurrently.
He received a six-month sentence to run consecutively for failing to surrender.