Biggleswade warehouse fire: Trailer refrigeration unit blamed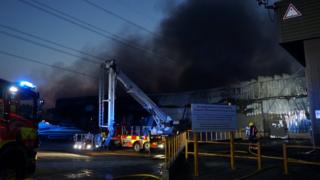 A large blaze at a food warehouse was started when a refrigeration unit caught fire in a trailer parked next to the building, an investigation found.
About 70 firefighters tackled the blaze at Bedfordshire Growers on Potton Road in Biggleswade on 19 April.
Following a similar accidental fire at another Bedfordshire warehouse in 2016, the fire service is urging businesses to make sure vehicles are not parked close to buildings.
It also advises fitting sprinklers.
Up to 10 fire engines from Bedfordshire Fire and Rescue Service, together with crews from Cambridgeshire, were called to a lorry fire at Bedfordshire Growers shortly after 19:00 BST, when the fire spread to a warehouse measuring about 20m by 30m (65ft by 98ft).
No-one was injured and an investigation concluded the cause was accidental.
However, it is the second major blaze the Bedfordshire fire service has had to tackle after vehicles parked near buildings caught fire, and flames spread to warehouses.
A serious fire at the Four Winds industrial estate in Haynes in May 2016 was caused after a caravan parked next to a building caught light.
"Those managing warehouses and other distribution centres are urged to ensure that vehicles are not parked adjacent to, or close to, property as any fires within these could spread to the main buildings," said Bedfordshire fire service's group commander, John Foolkes.
He further advised keeping bins well away from buildings and "fitting an effective sprinkler system to buildings, as in both cases sprinklers would have suppressed a fire and kept damage to a minimum".