Elderly woman's carer 'bled her account dry'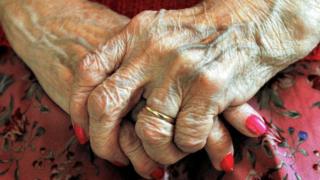 The niece of a widow whose bank account was allegedly "bled dry" by her live-in carer was "reassured" that someone was living with her, a court has heard.
But Patricia Longley said carer Carolyn McClune, 59, "did not explain how she was being paid".
Ms McClune, from Redbourn, is accused of taking more than £150,000 from the bank accounts of three pensioners.
She denies two charges of fraud by abuse of position - and one of fraud by false representation.
The prosecution at St Albans Crown Court allege that when Ms McClune, who ran her own company called Blue Bell Care, became Mrs Longley's aunt's carer, she "bled her account dry," taking £46,123 from the elderly woman, who has dementia and now lives in a nursing home.
When questioned in December 2015, the defendant denied any offence, saying the elderly woman had taken her in when she was homeless.
Read more Beds, Herts and Bucks stories here
Mrs Longley told St Albans Crown Court that she spoke "once every two months" to her aunt, who had no children and lived in a council property in Drovers Way, Hatfield.
It was in about 2011 that the defendant answered a call and said she was a "live-in carer" but Mrs Longley said she had "never heard of such a thing".
"[Ms McClune] said there are living-in carers because it is cheaper than putting someone into a nursing home," she said.
"I was a bit bemused. I was led to believe this was fine and that was the arrangement."
Mrs Longley said she spoke to Ms McClune "lots of times".
"She gave me updates on her care... I was reassured. I had peace of mind she was being cared for," she said.
"She did not explain how she was being paid."
Sarah Vine, defending, put it to Mrs Longley that Ms McClune had never told her that she was a carer, to which she replied, "I am sorry. She definitely told me".
Mrs Longley said her aunt was moved to a nursing home in Hatfield without her knowledge. When she found out, she rang the manager and was told the home had been informed that her aunt had no next of kin.
Ms McClune is also accused of fraud against two other pensioners - one of more than £88,613 and the other of more than £25,356.
The trial continues.