Missing Bracknell veteran case 'devastating' for family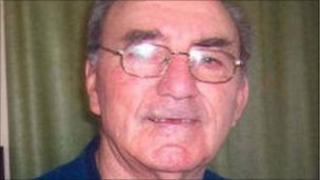 The daughter of a Berkshire man missing for three weeks has said his disappearance has been "devastating" for his family.
Leslie Frewen, 83, was last seen on 15 August at his home in Warfield Park, Bracknell.
His daughter Leigh said it had been a "fairly normal" Sunday and her father had left for his usual walk at about 1500 BST. He has not been seen since.
Thames Valley Police said inquiries were continuing.
Officers believe Mr Frewen was sighted in The Elms - an area within Warfield Park - at about 1515 BST.
His hat was found on the ground near The Elms in the early stages of the investigation.
He is also thought to have visited Tesco, Jigs Lane North, in Warfield, during the Sunday morning.
His daughter said she had been "over and over" what could have happened to her father.
"One minute I think he must be out there alive somewhere, just wanting to get away from it all.
'Personal life'
"Then I go to thinking 'well he can't be because he would have been in touch'.
"So he must be laying somewhere and, unfortunately, will have come to harm by now."
Ch Insp Simon Bowden, of Thames Valley Police, said: "In addition to the ground search, specialist officers have carried out underwater searches of nearby ponds and waterways, but no other trace of him has been found.
"As well as physically searching the area, we are carrying out inquiries into Mr Frewen's history and personal life, in case he has deliberately gone missing.
"However, we still have serious concerns for his safety due to his age and because he has been missing for over three weeks now without any personal belongings or prescribed medication."
Check sheds
Mr Frewen, a World War II veteran who served with the Grenadier Guards from 1945 to 1948, has a wife Jean and another daughter, Erika.
He also has four grandchildren, aged between 12 and 18.
He is described as having cropped grey hair, wears glasses, and was last seen wearing navy trousers, a beige zipped jacked and black shoes.
He suffers from diabetes but is otherwise healthy, police said.
Residents in the area have been asked to check their sheds, garages, outhouses and beneath mobile homes.