Thames Water engineers get anti-slip shoes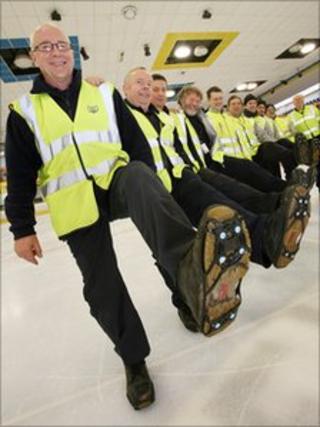 Thames Water engineers have been given new anti-slip shoes to help them stay on their feet while carrying out repairs this winter.
The shoes, which have been developed for people who maintain ice rinks, have studs on the bottom to bite into ice.
The move comes as the water firm expects to see a big rise in burst water pipes in the winter months.
Engineer Pete Cotton said he hoped they would stop workers "floundering around like Bambi on ice".
Thames Water said it was the first utility firm to give their staff anti-slip shoes, which will also be used by meter readers.
Mr Cotton, leak fixer, said: "It's icy out there right now, which causes more burst pipes and means we need to have more of our engineers out fixing them.
"And you can't fix pipes if you're floundering around like Bambi on ice.
"These shoes will enable us to get the job done quickly and safely."
The utility firm, which serves the Thames Valley and London, said water pipes burst more when water in its reservoirs dropped below 5C (41F).
The cold water makes the pipes contract and break if they already have hairline weaknesses.