New museum features Prince Charles wedding venue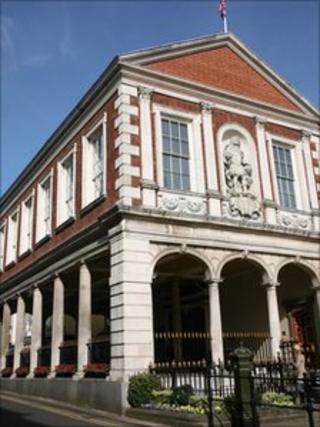 Visitors to a new £300,000 museum will be able to see the room where Prince Charles married Camilla Parker Bowles and Elton John had his civil partnership with David Furnish.
The room will be open to the public for the first time since 2005.
Five months of internal renovations have been necessary to transform the 17th century Grade I-listed Guildhall into a new museum for Windsor.
It will feature exhibits ranging from a mammoth's tusk to an Anglo-Saxon comb.
Visitors will also have a chance to enjoy a simulated balloon ride across Windsor and make their own stained glass window.
The museum will be housed in the Maidenhead room of the Guildhall.
Stained glass was manufactured in Old Windsor, and is shown elsewhere in the building.
Examples of stained glass and textiles dating from the 19th century can be seen in the Ascot room where Prince Charles and Camilla were married.
Elton John
The room has not been open to the public for "many years" according to the Royal Borough of Windsor and Maidenhead, apart from a few weeks following the Royal wedding in 2005.
The Ascot Room was chosen for the event as it was not overlooked by windows from nearby buildings, unlike the council chamber.
"All the press were over there and they were frustrated at not being able to get pictures," said museum volunteer Hesther Davenport.
Sir Elton John and David Furnish also performed their civil partnership in the Ascot Room.
Many historical objects from the borough's 6,500-strong collection will also go on display, including a bust of the Hawker Hurricane designer Sir Sydney Camm, who grew up in Windsor.
The museum will also have an exhibition dedicated to Windsor's life as a garrison town.
The museum is described as a long-held dream by the Friends of the Windsor & Royal Borough Museum, who wanted a permanent home for the borough's local history collection.
The renovations to the Guildhall and the museum were funded by a £500,000 investment from Windsor and Maidenhead Council, the Friends of the Windsor & Royal Borough Museum's appeal and just over £250,000 from developers' contributions.