Off-duty policeman saves Reading woman attacked by dog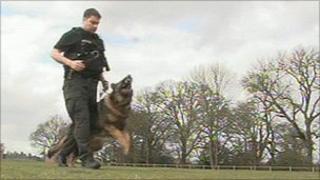 An off-duty policeman has spoken of how he saved a woman from being mauled by a German shepherd.
Dog-handler Pc Matt Jones was shopping with his family when he saw the pet lunge at the 60-year-old victim outside Lidl supermarket in Reading.
He said the woman was on the ground "screaming out" and that she had puncture wounds to her arm and chest.
The woman, from Reading, was taken to Royal Berkshire Hospital and is recuperating at home.
A police spokesman said on Wednesday that the dog was still with its owner, who would be interviewed once officers had finished speaking to witnesses.
Owner 'remorseful'
Pc Jones, who has 11 years' dog-handling experience, said he was in the car with his son outside the Basingstoke Road supermarket when he saw the attack, on Sunday 27 February.
"I originally thought it was her dog but then all of a sudden the dog lunged at her, biting her on the arm.
"She was screaming out. I got out of my car and ran over to assist her."
He said she was on the ground with the lead trapped underneath her.
"The dog was still biting her, so I managed to get hold of the lead and take the dog away to a safe distance and called an ambulance."
Pc Jones added the dog owner then came out of the supermarket and told him the dog had been tied up.
"The owner appeared very remorseful and very shocked."
Pc Jones said that his dog-handling experience might have helped to prevent a more serious attack.
"I don't know what might have happened if someone else had tried to help her. The dog might have turned on that person as well."