Reading residents use speed guns to tackle speeding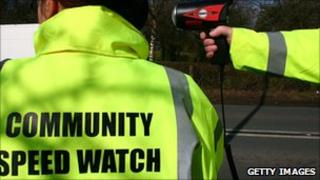 A pilot scheme to stop speeding drivers is to be rolled out across Reading after it was hailed a success in the Tilehurst area.
Residents in east of Tilehurst were given access to police speed guns under the Speedwatch scheme.
In total 150 drivers were reported to Thames Valley Police for exceeding the speed limit and were sent letters.
Further enforcement action can be taken by police if there is seen to be a problem with speeding in the area.
David Webber, Chair of Tilehurst East Neighbourhood Group, admitted the scheme could be seen as policing on the cheap.
Freeing resources
He said: "In a previous campaign we spent five whole days doing Speedwatch.
"Had the police been doing that that would have been 15 to 20 man days of police time."
Thames Valley Police refused to comment on whether it was policing on the cheap.
Supt Stuart Greenfield, the Reading Local Police Area Commander, said: "Speedwatch is about neighbourhood policing teams working even closer with the community to tackle one of the issues that they have identified as a concern.
"An additional benefit is that it frees up neighbourhood policing officers to tackle other issues in their areas."
Bartholemew Road resident Hilary Kemp, who says her street has become a rat run for speeding motorists on their way to the M4, said she was against the scheme.
"I work and I'm a single parent," she said. "I wouldn't be able to monitor the traffic when it is busy in rush hour."
She said she would prefer to have speed cameras installed on her road.
"It's more of a deterrent," she said. "And it's a little bit of a punishment as well."