Windsor protests lead to stay of execution for tree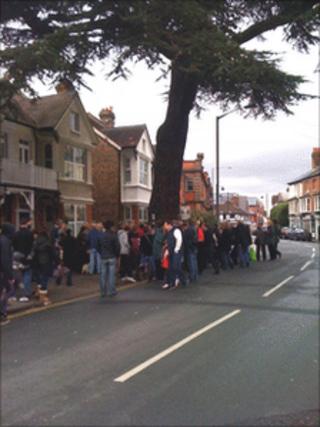 More than 100 Windsor residents have gathered to protest over plans to cut down a 200-year-old cedar tree.
The tree in St Leonards Road was due to be cut down last Friday, until resident Marie Melvin started up a Facebook campaign to save it.
The council said the tree was damaging adjoining properties and that repairs could cost up to £150,000.
However, the tree has now been given a reprieve while further investigations are carried out.
Last week a notice was placed on the tree, saying it was to be felled because it was causing cracks to appear in neighbours' homes.
The council originally said it was cheaper to cut the tree down than to underpin houses nearby.
Now, following a meeting between councillors and officers on Friday afternoon, a spokesman from the council said: "No work on the St Leonards cedar tree is currently planned."
More than 100 locals gathered on Sunday to protest against the plans to fell the tree.
Campaigner Roger Cullingham, said Forestry Commission experts believed the cedar tree was not solely responsible to the damage to nearby houses.
"The tree has been there since 1795," he said. "The tree comes first and the expense is secondary."
Guy Cunningham has also set up a campaign on his website's forum.
The tree has been under threat before - in 1898 and 1903 - but was saved when the residents clubbed together to buy it.
In its consultation, the council originally said it could cost up to £150,000 to carry out necessary works to make repairs to the road and the adjoining houses, if the tree was not removed.
It is still getting advice on how much repairs could cost.