Human rights fight over Berkshire gravestone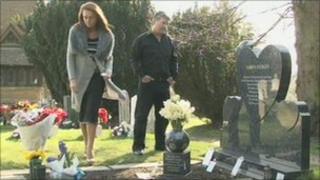 A Berkshire family is taking the Church of England to the Court of Human Rights in Strasbourg after being told to remove their son's gravestone.
Jimmy and Tina Hedges, from Sandhurst, are fighting to keep the headstone in the graveyard of St Michael's All Angels Church in the town.
It is a memorial for their son, Jimmy, who died of cancer in 2004, aged six.
The church, which comes under the Diocese of Oxford, said the memorial was installed without permission.
The family did not realise the headstone went against a ruling by a church court. They have been given 60 days to remove it.
Mr Hedges said: "We understand it's not everybody's choice but it's a personal thing.
"We are going through torture - we watched our beautiful child die - and that headstone means so very much to us and I can't see it can be that important to other people."
Archdeacon of Berkshire Norman Russell said: "When a memorial is like that, it does have an implication, not just for that family but for other families with graves close by and we've got to keep a balance."
The family could have to wait for up to a year for the Strasbourg decision.