Cookham Dean residents respond to Midsomer Murders row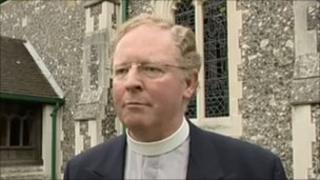 "Our communities are not monochrome."
This is the verdict of the Reverend John Cook of St John the Baptist Church in Cookham Dean in the wake of the village becoming an unlikely focus of attention.
The picture postcard village in the Thames Valley is the location for the ITV1 show Midsomer Murders.
Its producer and co-creator Brian True-May was suspended on Tuesday after claiming the drama "wouldn't work" if there was racial diversity in the show, which he said was a "last bastion of Englishness".
Mr Cook said he was surprised by the idea that the area was lacking in diversity.
'Absolutely ridiculous'
"I don't think it's an accurate portrayal, because my experience around here is there is a great mix of families.
"There's a whole variety of people."
Landlady Laura Kelsey of the Jolly Farmer Pub said: "I think it's absolutely ridiculous.
"I run the village pub here, and I have done for eight years.
"We have a real mix of people here and everyone's welcome.
"To stereotype an English village in this way is ridiculous."
However, Roy Gigg, who runs Roy Gigg Butchers in the Berkshire village, said he thought rural communities were not very diverse.
"I think you don't see a lot of ethnic minorities in rural villages and I think that's a fair point to make," he said.
Peter Young, who works at the Lychee restaurant in Cookham, disagreed.
"There's a lot of different cultures out here, I think there's six or seven ethnic groups around here, so I think it's misrepresentation of rural areas," he said.
And one resident, Sam Sethi, said the programme was "outdated".
"Midsomer Murders, maybe it's time for it to die."