EDL hold protest in Reading over mosque plans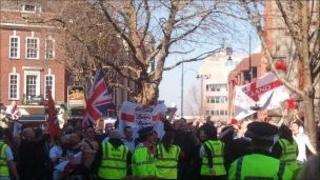 An English Defence League (EDL) protest in Reading over plans to build a mosque in the town has ended, police said.
Officers said up to 200 members of the EDL gathered in the town centre earlier this afternoon.
EDL members came from around the UK to demonstrate against plans submitted to Reading Borough Council to build a new mosque and community centre.
They were met by counter protesters but there was no violence and no arrests have been made, police said.